• "Ciocc'arancio" of Nathalie Masaad from Caprices Du Palais (Keserwen) has been selected to represent LEBANON in the World Finals of Gelato World Tour, being held in Rimini, Italy this upcoming September 8-10, 2017.
• "My Joy" of Kamil Chamoun from Ice Bit (Zahle) has earned a special mention.

Beirut, 28 April 2017 – Gelato World Tour's trip around the world saw Lebanese gelato chefs compete on April 27 at Abiad Group's, exclusive dealer of Carpigiani of Lebanon.


This flavor will go on to represent LEBANON at the Grand Finale of Gelato World Tour: "Ciocc'arancio" of Nathalie Masaad from Caprices Du Palais (Keserwen), a 70% chocolate gelato with cognac and orange. Due the extremely high quality of the gelato in the competition, the Jury has decided also to award a "Special Mention" to "My Joy" of Kamil Chamoun from Ice Bit (Zahle), a mascarpone gelato with red velvet sponge.
The flavor "Ciocc'arancio" will compete amongst the other winners from around the world at the Grand Finale, scheduled for September 8-10, 2017 at the Piazzale Fellini in the heart of Rimini, Italy. Flavor, structure and presentation are the three parameters that are judged, highlighting the choice of ingredients, the art of gelato making, and the visual impact of the gelato. See below the full list of participants.
The jury was composed of: Barbara Massaad, Lebanese-American cookbook author, food consultant and TV host (http://barbaramassaad.com/); Paula Nawfal, journalist from Annahar Newspaper; Hana Salem, food blogger (https://www.instagram.com/theyummynation/); Nicole Maftoum, clinical dietitian (https://eatlikenicole.com/); Anthony Rahayel, food blogger (http://www.nogarlicnoonions.com/).
The Gelato World Tour, which is supported by the Italian Ministry of Foreign Affairs and of Economic Development, as well as the Regione Emilia Romagna, is the first international traveling competition in search of the best flavors in the world. Gelato World Tour has visited eleven Gelato Capitals – Rome, Valencia, Melbourne, Dubai, Austin, Berlin, Rimini, Singapore, Tokyo, Chicago and Shenzhen. The Tour is directed by Carpigiani Gelato University, the world's most renowned school for successful gelato entrepreneurs, and Sigep – Italian Exhibition Group, the world's premier artisan-gelato trade show. In order to further fulfill Gelato World Tour's mission to spread the culture of gelato throughout the world, Challenges, such as the Beirut Challenge, are being organized around the globe!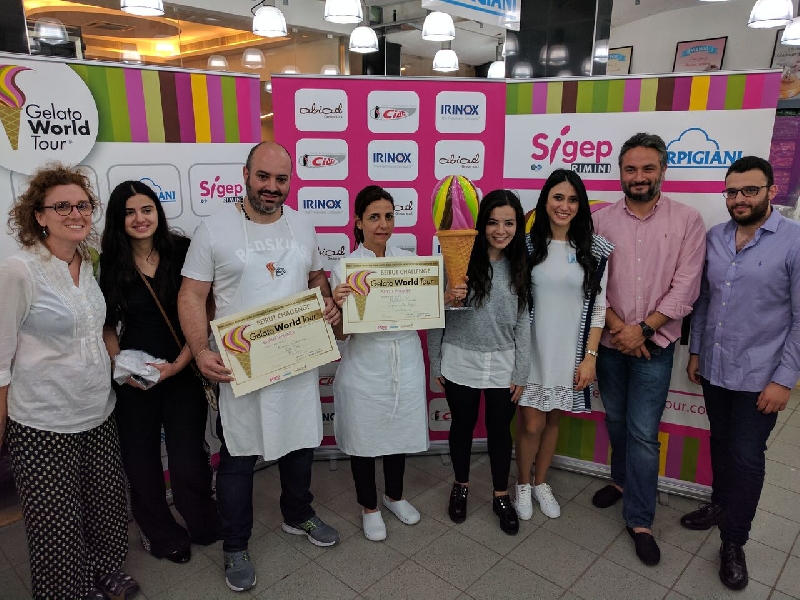 BEIRUT CHALLENGE
APRIL 27th, 2017
LEBANON
ABIAD GROUP
LIST OF FLAVORS PARTICIPATING
WINNER - "Ciocc'arancio" of Nathalie Masaad from Caprices Du Palais (Keserwen)
SPECIAL MENTION - "My Joy" of Kamil Chamoun from Ice Bit (Zahle)
List of participants:
1. Carlos Afram from Fork & Sugar (Beirut) with the flavor "Vintage Vanilla"
2. Bassem Koubaisy from Agha (Beirut) with the flavor "Pomegranate"
3. Kamil Chamoun from Ice Bit (Zahle) with the flavor "My Joy"
4. Moustafa Al Zein from Sucara (Shmestar) with the flavor "Lemon with Mint"
5. Ali Kain from Barbar (Beirut) with the flavor "California"
6. Samir Sabbagh from Glasius (Nabateiye) with the flavor "Glasius Black"
7. Samir Yazbik from Patisserie Dagher (Beirut) with the flavor "Avocado Too Special"
8. Ali Ibrahim from Mövenpick Hotel Beirut with the flavor "Summer Breeze"
9. Zahi Al Baba from Al Baba Sweets (Saida) with the flavor "Summer Mix"
10. Nathalie Masaad from Caprices Du Palais (Keserwen) with the flavor "Ciocc'arancio"
11. Antoine Kasouha from Galette Du Roi (Jabal) with the flavor "Biscottino"