Can't make it to campus? Check out Online Courses!


Carpigiani offers courses from two specialized schools in the USA
: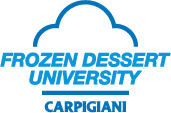 Frozen Dessert University
The school aims to educate potential entreprenuers who want to enter the frozen dessert retail business on the priorities that are needed to be successful, and even more important, how can one produce the finest frozen desserts products: Ice Cream, Gelato, Sorbets, Italian Ice, & Dairy-Free Ice Cream. The education style includes hands-on product training, so each participant can be ensured of a deep understanding of the production method to produce the finest frozen desserts. The workshop will also educate and illustrate to each participant all the business tools needed to be successful in the frozen dessert industry. The Frozen Dessert Business Course is specifically designed to provide our students with all the tools necessary to be successful entreprenuer with a wide-range of knowledge, confidence and continued hands-on support from us, specifically how to go from first base to home plate with the hundreds of questions that can be answered from an expert who has been teaching individuals how to get into the artisan ice cream business for over 25 years.



Carpigiani Gelato Univesity
The school offers a deep-dive Immersion Course on Italian style artisan gelato for those who want to focus specifically on artisan gelato-making.
In 4 days, the course provides a thorough knowledge of high-quality Italian-style gelato-making, starting from ingredients, production cycle, recipe-making techniques and business plan. For those who want to acquire additional knowledge of gelato, Carpigiani Gelato University offers a 4 week complete curriculum at its Bologna headquarters in Italy. Those who have studied the Immersion course in the US can access directly the Intermediate course in Italy.
---