Firenze: in gara i 16 vincitori del tour dal 2011, in un weekend tra assaggi, laboratori e degustazioni. Il vincitore accede alla finalissima del Gelato Festival World Masters 2021
I migliori gelatieri del mondo a Firenze per una sfida senza precedenti, una competizione all'ultimo cono: è iniziato il conto alla rovescia per la "ALL STARS" del GELATO FESTIVAL 2018, il più importante evento dell'anno nel campo del gelato artigianale organizzato in collaborazione con Carpigiani e Sigep – Italian Exhibition Group. Dopo un tour in otto tappe con oltre cento maestri gelatieri che si sono sfidati portando in assaggio le loro creazioni artigianali, adesso a confrontarsi per conquistare l'accesso alla finalissima del Gelato Festival World Masters 2021 sono i sedici campioni che hanno già trionfato nelle varie edizioni del Gelato Festival dal 2011 in poi.
L'appuntamento è
a Firenze DA VENERDI' 14 A DOMENICA 16 SETTEMBRE
(orario 12-20), nello splendido scenario offerto dal
Piazzale Michelangelo
: per fiorentini e turisti un'occasione unica per scoprire i segreti del mondo del gelato fra
assaggi, iniziative a tema e laboratori didattici allestiti nei tre grandi food truck da 13 metri
(incluso il "Buontalenti" che rappresenta
il più grande laboratorio mobile
di produzione di gelato al mondo e il "Ruggeri" allestito con le vetrine gelato più innovative firmate ifi) in uno dei luoghi più suggestivi e fotografati al mondo, con vista mozzafiato sulla città. Un biglietto da 10 euro (ridotto per i bimbi sotto il metro), disponibile anche in prevendita sul sito della manifestazione (
www.gelatofestival.it/biglietto
), darà diritto all'assaggio di tutti i gelati in gara, più quelli degli sponsor (incluso Cookies The Original® e la versione Black) e alla partecipazione alle attività del villaggio.

Una vera e propria sfida tra le stelle del gelato artigianale italiano dunque, con la presenza dei vincitori del Gelato Festival dall'edizione 2011 ad oggi. Artigiani i cui nomi sono ben noti a chi conosce il mondo della gelateria artigianale d'eccellenza, ognuno dei quali si è saputo imporre grazie a un mix tra l'alta qualità delle materie prime, un'ottima padronanza della tecnica e grande fantasia nell'elaborare gli accostamenti più azzeccati. Nei giorni del festival – ed è un'altra novità assoluta - gli stessi gelatieri saranno poi chiamati a cimentarsi con due prove speciali: grazie alle partnership con Callebaut e Birrificio Angelo Poretti, gli chef dovranno realizzare un gusto inedito utilizzando il pregiato cioccolato dell'azienda belga e uno invece aromatizzato alla birra. Entrambi i gusti saranno valutati da altrettante giurie tecniche.
La kermesse è realizzata con la partecipazione di alcune delle più importanti aziende della filiera del gelato come Ifi (azienda leader nel campo di arredi, vetrine e banchi frigo), Mec3 (azienda leader nel settore degli ingredienti per la gelateria artigianale e fornitore ufficiale dei prodotti in gara) presente con il silver sponsor Cookies The Original®, Cartoprint (azienda leader nel settore del packaging alimentare, gruppo Seda), Hiber, Weker, Mondo Convenienza, Zucchero&Co e Solochef.it con le sue divise griffate. Sul fronte media, invece, sono presenti Punto IT, TuttoGelato e l'emittente Rds – Radio Dimensione Suono.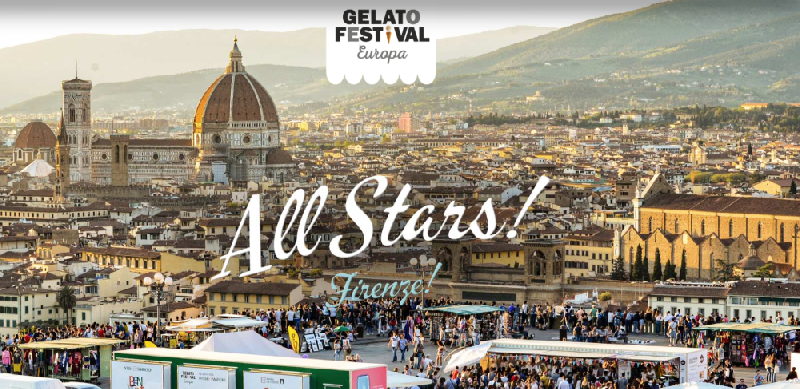 Il Festival varcherà poi l'Atlantico per l'edizione americana, in 8 tappe tra la West Coast e – per la prima volta – la East Coast. Il vincitore della "All Stars" fiorentina sarà il primo a qualificarsi per la finalissima dei Gelato Festival World Masters 2021, la sfida per i migliori gelatieri artigianali del pianeta, un percorso con centinaia di prove in quattro anni su cinque continenti, con giurie tecniche e popolari per aggiudicarsi il titolo di campione mondiale. Non solo il principale torneo internazionale di categoria, ma un progetto di posizionamento strategico del gelato artigianale e di tutta la filiera, con l'obiettivo di coinvolgere nella sfida 5.000 chef gelatieri da tutto il mondo e generare un +15% di indotto per il settore, con un media value globale per il made in Italy stimato in 50 milioni di euro.
Il Gelato Festival ha debuttato a Firenze nel 2010 ispirandosi all'ideazione della prima ricetta di gelato per mano del poliedrico architetto Bernardo Buontalenti nel 1559. Da allora la manifestazione ha allargato i propri confini espandendosi prima nel resto d'Italia, poi in Europa e – dal 2017 – anche negli Stati Uniti, con un totale di 64 Festival realizzati, prima di abbracciare tutto il pianeta col campionato mondiale dei Gelato Festival World Masters 2021.
Ecco i 16 gelatieri in gara con i rispettivi gusti:
Gabriele Scarponi – Tropical Basil
Eugenio Morrone – Mandarino Tardivo
Giovanna Bonazzi – Sbrisolona dei 12 Apostoli con recioto bianco
Alessandro Crispini – Pistacchio
Paolo Pomposi – Dolce Vita
Eric Dorval – Noce pecan e sciroppo d'acero canadese
Giacomo Canteri – Inne Lemon Curd
Taizo Shibano – Sorbetto di ananas, sedano, mela
Giampiero Burgio – I'David
Antonio Mezzalira – Pinolo
Francesco Mastroianni – Cuore di Brontolo
Fabrizio Fenu – Pecorino sardo con pere caramellate al miele di Sulla
Massimiliano Scotti – Il mio primo vero latte
Vincenzo Lenci – About strawberry and red pepper
Guido Cortese – Pinolo alla ligure
Marco Venturino – Sorbetto limone e basilico
Per info stampa: