We are Kristen Tuulmets (31) and Sindy Püssa (29) from Tallinn, Estonia. We are friends who have known each other almost all of our lives and have been friends ever since starting first grade at school 23 years ago.
When did you decide to open a gelato shop? Has it always been a dream of yours or was it a sudden decision?


It was after our babies (both now two years old) were born that we started thinking about not going back to our office jobs and finally decided to go into business together in the spring of 2015. In June 2016 our gelateria opened its doors There are only a few places in Tallinn that make gelato so the demand was huge straight away and a queue stood out onto the street for the entire summer.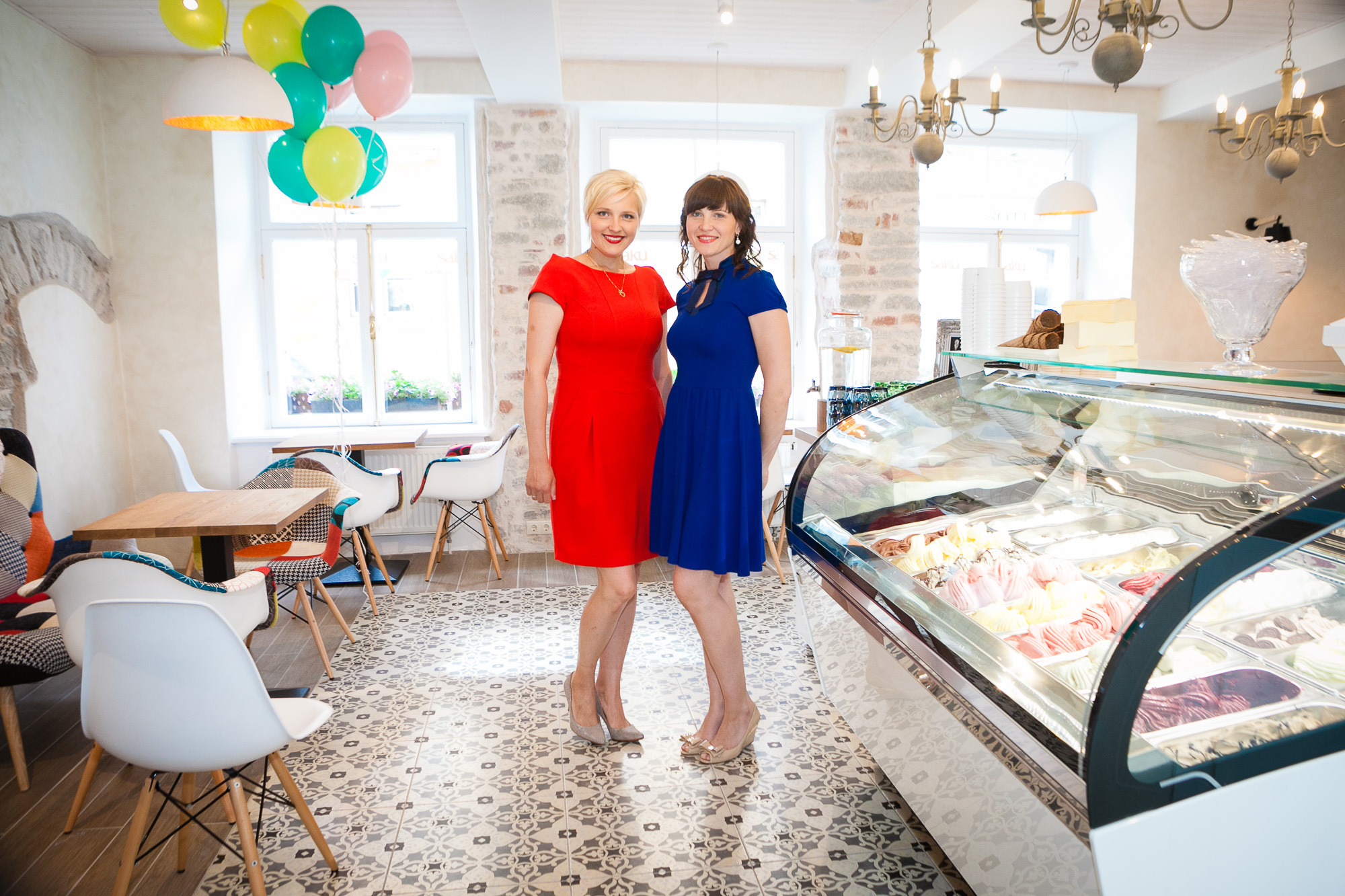 Why did you decide to produce and sell gelato?



The business idea changed from just producing ice cream to artisanal gelato-making very quickly when we started thinking about what would set us apart from the factory-made ice cream counters in malls and the wide selection of ice cream available in supermarkets. We realized that in order to stand out our product had to be the best in terms of taste, freshness, quality of ingredients and have a wide selection and seasonal variety.


Where/when did you learn about Carpigiani Gelato University? Why did you decide to register for courses?


We learned about Carpigiani Gelato University in the very beginning of our online research into becoming a gelatiere. We realized that to be able to create and manage a gelateria we needed to know everything about it starting from the basics and including hands-on practice. The CGU course seemed to offer exactly that and we registered in summer on a course that took place in August 2015.


What is the mission of your gelato shop?


To offer the freshest and best tasting gelato in the widest variety of flavours in Estonia.


What was the inspiration for the name of your gelato shop?


We were looking for a suitable name for a very long time until the name ''gelato ladies'' was proposed by Sindy's fiancée to represent the fact that the owners/gelatieres are both women, which is rather uncommon. We like that fact that it includes us and our stories into the brand without being named ''gelato by Sindy and Kristen'' or something like that.


Tell me about a typical day in the shop.


We arrive at 9 to be ready for opening at 10:30, we both always start the day with a cappuccino with a double espresso as we have already been up for hours and it will be a long day ahead. The mornings are quiet but full of anticipation and preparation for the beginning day. We start working either behind the café counter, on our computers or in the laboratory. At noon we realize that we won't be able to go for lunch (again!) and snack on some gelato or waffles instead. There is never enough time and always too much to do. At five the pressure builds as our children are waiting to be picked up and we need to leave but the shop is just getting busy, customers arrive after their workdays end and our staff need us or there are some urgent matters to resolve in the café or a new batch of 50 liters of base has to be made in the pasteurizer. We ask or partners or parents to get the kids and stay until late to get everything done. We eat another waffle and start cleaning the kitchen, it takes a long time to polish all the stainless steel surfaces but as our laboratory has a glass wall there is no excuse, it just has to get done. Exhausted, we leave the shop to go home to our families and to do it all over again on the following day.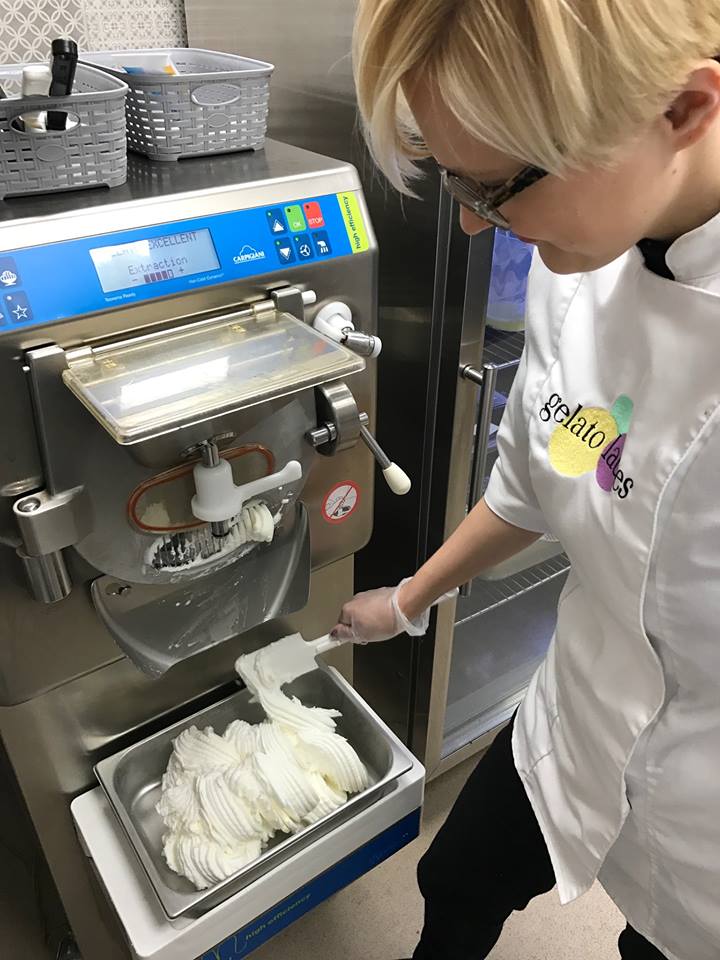 What part of your work do you like the most?


Talking to customers about how we make the gelato, giving them sample spoonfuls and seeing their eyes light up with every flavor they taste. Making people happy and seeing them enjoy what we make is a real pleasure.
What is your favorite flavor? Is there a flavor you enjoy making the most?
Prosecco sorbet, because it is so much fun to pop open bottles after bottles of prosecco in the morning and seeing the look of surprise on our customer's faces. It puts us in a celebratory mood and the gelato itself is so quick and easy to make, it feels like we are at a party, not work.


What is your customers' favorite flavor?


Pistachio is the most popular flavor by far.


In the country where you work, is artisanal gelato known? Or is it confused with industrial ice cream?


Artisanal gelato is not that common and easy to find but people do know about the difference and appreciate the taste and ingredients. There is a lot of specifics about artisanal gelato that people don't know but it is a chance for us and our fellow gelatieres to introduce the product in more detail and educate the consumers.


How do you communicate the craftsmanship of your product?


Our gelato laboratory in visible through a glass wall just behind the gelato counter, so the customers can see what is going on in the kitchen and see the gelato being made.


How do you communicate with customers and how do you make yourself known? Do you use social networks a lot?


We use our facebook and Instagram pages almost on a daily basis to publish content and interact with our customers. We also keep an eye on our Tripadvisor reviews and always respond. As there are not many gelaterias in Estonia we also got a lot of media attention and were featured in many newspapers and magazines. We haven't paid for any advertising yet.


In your opinion, what is the key to success for a gelato shop?


Great gelato, good quality products like great coffee and wine in our case, great customer service and lovely interior is the perfect combination. You cannot have one without the others, we believe.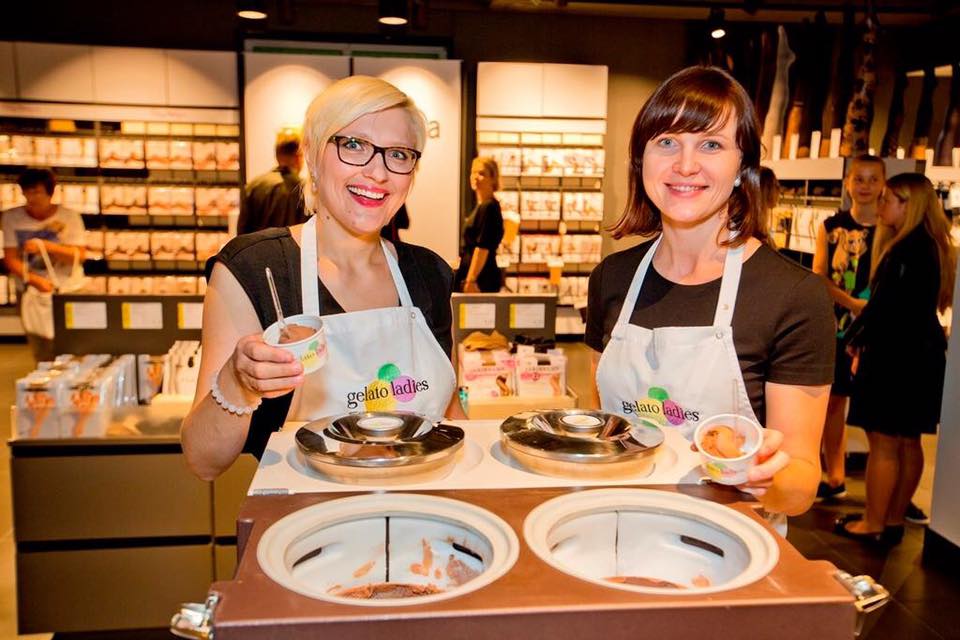 How and how much has your life changed since you opened your gelato shop?


Everything has changed, we think about the shop day and night, spend almost all of our time there and work a lot. But it is also very empowering to know that we have succeeded in building this business up from scratch and rewarding to know that we are making a product that people love.


What are your plans for the future? Do you want to open more shops?


We plan to go back to CGU for the intermediate level course to get more knowledge about creating our original recipes and new skills to enhance our product variety


What message/advice would you give CGU students or anyone who wants to start a career in the gelato business?


Ask yourself if you are really sure this is what you truly want and whether you are passionate, strong and crazy enough to dedicate the next x amount of years, blood, sweat and tears to this project. If the answer is yes – go for it! You are in for the time of your life, be ready to work hard and you will be successful for sure.